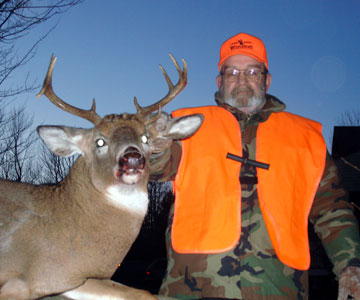 Whitetail Deer Hunting
Option A - Camp Rental Only
$500.00 per person includes 5 days hunt
We recommend a 4 wheel drive for all deer hunts.
Includes: For those who like to do their own scouting and exploring or for those of you returning yearly this is the package for you, you already have your favorite area and enjoy scouting and learning new areas on your own. We have thousands of acres to explore in these vast areas without the pressure from hunters. Our archery hunting is end of September thru October and our muzzleloader hunting season is immediately after our rifle season.
Option B - Camp Rental & Semi-Guided Rifle and Archery Hunting
$750.00 per person
We recommend a 4 wheel drive for all deer hunts.
Includes: If you never hunted in Maine we recommend our semi-guided hunts due to the vast area we hunt. We will take you into a pre-scouted areas that we know hold deer and offer suggestions on where to place tree stands or use our placed stands & blinds and how to hunt the area. We will spend two days with your party to show you the area and different terrains for you to hunt. You and your party will be hunting on your own. We will take care of game retrieval & field dressing for you. Our Archery deer hunts can be semi-guided, with little to no pressure from other deer hunters at this time of year, this is an excellent time to harvest a huge whitetail prior to our rifle season. Muzzleloader hunting season is at the end of our rifle season in December and we usually have snow this is also an excellent time to hunt with us for that huge whitetail.